Retirement Life
3 October 2022
5 things you should know about 'budget' groceries
Supermarket own-brand groceries may seem like a great way to manage the rising cost of supermarket shopping. With inflation still running hot, grocery prices are not immune to rising prices. And anyone walking down the supermarket aisles will see 'offers' galore. So much so the choices can often be overwhelming.
So what is there to know about how supermarkets label and price their goods? And how can you get the best value for money?
1. Specials and own brands can go by many names
The first complication is that different stores use different language to describe specials and own-brand products. For example, Countdown has "specials", "great price" (a long-term everyday price) and deals available for Onecard members. Pak'n Save has "extra low", "everyday low" and "price rollback" prices, and New World has "saver", "supersaver" and "club deal" discounts. On top of that, all supermarkets will offer multi-buy deals, where you get a discount if you purchase more than one item.
Then you've got own-brand products. Countdown has its Countdown brand (known as Select in Fresh Choice) and its Essential brand. Pak 'n Save and New World have Value, Pams and Pams Finest, equivalent to budget, standard and premium tiers of products, respectively.
In New Zealand, we currently have a duopoly in the grocery sector, meaning two supermarket retailers own all of the supermarket brands. Foodstuffs owns Pak 'n Save, New World and Four Square brands (among others), and Woolworths owns Countdown, Fresh Choice and SuperValue. Grocery prices are fixed solely by these two players. This is something Consumer NZ has been lobbying to change.
"We need more competition to drive down prices and give New Zealanders a fairer price at the checkout," said Jon Duffy, Consumer NZ Chief Executive in May 2022.
Project your fortnightly, tax-paid income.
2. Specials do not necessarily mean cheapest
Even once you've got your head around the different lingo and brands, working out how much you are saving can be tricky.
According to Consumer NZ's Research Writer, Belinda Castles, "Neither Pak 'n Save nor New World display the regular price next to the special price on their websites." In addition, where you might be thinking you're getting a good deal at one store with a 'special', this may be the regular price at another store.
"We found some products on special 11 out of 12 weeks. If a product is routinely sold at a promotional price, that price is really the usual selling price. This tactic can be misleading for shoppers," says Belinda.
3. Quality varies
Price is important, but you may also care about the quality of your products. Some own-brand products may have a different nutritional content from their equivalent branded products. There may be higher amounts of sodium or sugar in the products, for example.
However, a New Zealand study published in the journal Nutrients in 2021 found that own-brand products have similar nutritional value to expensive branded products.
Research conducted by the University of Auckland studied 4266 home brand products and 19,318 branded products from 2015 to 2018. The researchers discovered that for most food categories tested, there was "no significant difference found" in the average sodium or sugar content between the products.
Often own-brand products are produced at the same factory (under contract) as the big brand products.
It's good advice to check the Nutrition Information Panel on products per 100g, to compare products.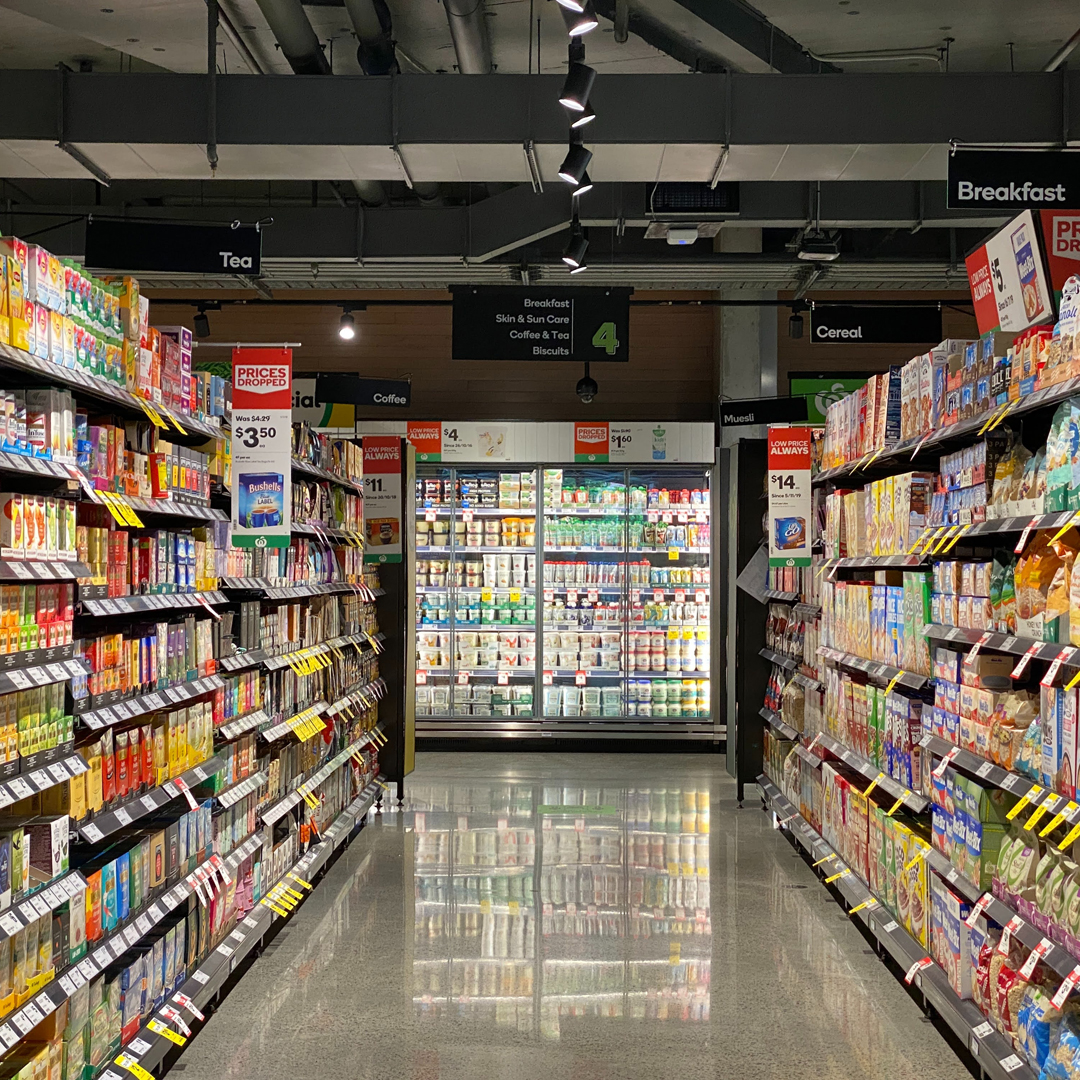 4. Shopping around is the key (if you have the time)
Genuine promotions are available and are good for our pockets, but often 'specials' can be around for weeks at a time. It's well worth hunting around online or in-store for the genuine bargains of the week. It's also worth looking at unit pricing, so you are comparing prices per 100g, for example – so you can tell if a larger size packet is better value than a smaller one.
In my (very unscientific) survey of eight food items across four supermarket brands on one day in September 2022, here are the differences I found. I was only looking at own-brand products:

How much should you invest to top your income up?
So, what's the cheapest supermarket? In Consumer NZ's recent survey of online pricing, Pak 'n Save typically comes out cheapest. "On average, a basket of goods was more than $10 a week cheaper – a saving of more than $500 a year," says Belinda.
5. Have your say
If, like Consumer NZ, you believe supermarkets need to up their game, it's worth signing up for Consumer NZ's supermarket campaign updates. Consumer will keep you up-to-date with their latest news, investigations and invitations to take part in surveys.
The pricing and labelling of supermarket items is not always clear and varies considerably by location and retailer. If you're looking to save money on your groceries, do your homework and shop around for those genuine bargains.
This article is for informational purposes only and should not be considered financial advice.