News
10 June 2020
Mucking In
Images courtesy of Volunteer Central


They say a crisis can bring out the best – and worst – in people, and an international pandemic has been no different.
While we can now look back from the comfort of a more liberal Alert Level 1, it was easy to be drawn into headlines about toilet paper hoarders, lockdown rule flouters or people who spat at supermarket workers earlier in the pandemic. Meanwhile, behind the scenes were scores of people 'mucking in' around New Zealand, often putting the welfare of others before themselves.
There were the health and essential workers to whom we owe much and then the endless examples of charities and everyday people stepping up, or changing what they already did, in order to plug gaps and meet needs where they spotted them. Along with many well-known organisations such as the Red Cross, Civil Defence, Salvation Army and Foodbanks working hard up and down the country, many others 'mucked in' too.
Examples include the Student Volunteer Army, which swung into action offering contactless delivery of essential prescriptions and groceries, along with childcare for health professionals throughout New Zealand.
During the pandemic, Student Volunteer Army founder, Sam Johnson, said it had been astounded by the response to what it did – from those willing to volunteer with the army, those needing its help, through to the general public recognising the support it was providing.
"This is humanity at its best," he said.
Players from Porirua's Northern United rugby club, including former All Black Stephen Bachop, stepped in to deliver Meals on Wheels in the Porirua area after many older volunteer drivers could no longer help due to the lockdown.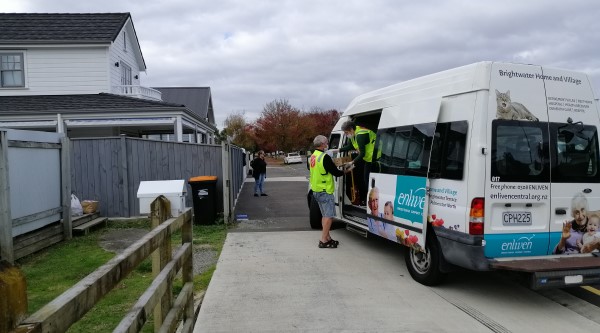 "The power and potential of volunteering, Mahi Aroha (work performed out of love) and social action shines through when communities are stretched and challenged", says Volunteering New Zealand chief executive Michelle Kitney.
"We love how Jacinda (Ardern) has referred to New Zealand's 'team of five million'.  We have all mucked in and worked together to unite against Covid-19," she says.
Charities such as Wellfed which provide face-to-face cooking classes in Porirua "pivoted" to provide fresh produce to families in need. Other organisations took their activities online – such as Multiples NZ, which started delivering online Facebook training sessions on things like sleep, feeding and toilet training for families with twins and more, she says.
Meanwhile, Bellyful, which normally provides meals for families with newborn babies and families with young children who are struggling with illness, began working with other organisations to help get meals to families in need.
And other everyday people have been out helping their neighbours and their families, Kitney says.
"We have seen a huge influx in people putting up their hands to help. During lockdown, doing things from our bubble was important." 
She says it had been concerned that with those aged 70+ particularly vulnerable to Covid-19, the number of volunteers available to help would take a hit. However, with a lot of programmes put on hold during the lockdown, this had been manageable.
Kitney has been heartened by New Zealand's response overall.
"I have been thrilled to see how our team of five million have come together to make sure people in their communities are safe and supported. There has been a real focus on the importance of the community and voluntary sector and the critical role of volunteers in this."