News
28 October 2020
Economic crunch time: Are we in for a double dip?
Economic research firm Infometrics is predicting a double-dip recession next year, expecting the next few months to be "crunch time" for the New Zealand economy.
Despite this, the housing market continues to be buoyant due to a spike in returning New Zealanders and record low interest rates, it says.
This buoyancy is borne out by the latest CoreLogic House Price Index for September, which found property values nationwide were showing signs of growth again, rising 0.8 percent over the month, after generally stalling since May. 
The latest TradeMe Property Price Index found demand to be up 20 percent nationwide on the same time last year, supply flat and the national average asking price up 10 percent.
"With thousands of Kiwis coming home to escape the global pandemic needing housing, this is putting pressure on the market and making it seriously competitive, says Trade Me Property spokesperson Logan Mudge.
"Record low interest rates are also playing their part, making borrowing a lot more enticing When you couple this with limited stock on the market, prices start to rise."
Meanwhile, Westpac economists are now predicting house prices to grow 6.3 percent this year and 8 percent in 2021.
"Even this now seems too timid – the lift-off in house prices is playing out earlier and faster than we expected," it says.
Infometrics is expecting house price growth to slow next year, thanks to the fact that the number of Kiwis coming home has slowed. But it thinks a drop in prices now looks unlikely too.
"Renewed house price rises have been a side-effect of the Reserve Bank's efforts to stimulate the economy," Infometrics chief forecaster Gareth Kiernan says.
"Job losses to date have been concentrated among segments of the population that are less likely to be homeowners. The ongoing surge in house prices is exacerbating the uneven effects of Covid-19 and amplifying inequality issues within New Zealand."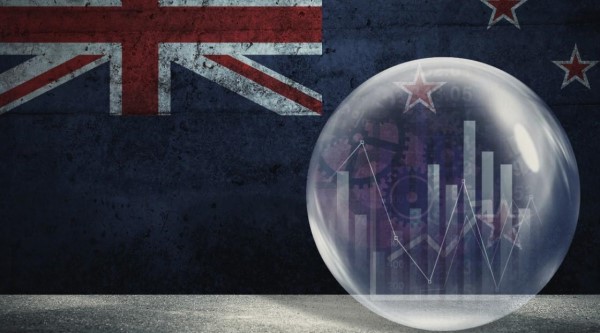 Economic crunch time on the horizon
Kiernan says that although the New Zealand economy rebounded well from the initial lockdown period and the effects of Covid-19 more generally, we are still vulnerable.
"The company is forecasting a double-dip recession to hit during 2021, as delayed job losses punch a hole in consumer spending and drag economic activity lower," he says.
Infometrics predicts a drop in employment of 186,000 jobs by June 2021, compared with employment numbers before the pandemic. This is just over half the 300,000 jobs that were feared might be lost at the height of lockdown, an improvement it attributes to the government's wage subsidy and other support.
However, the next few months will be the crunch time, Kiernan says.
"The loss of international visitors will be keenly felt by tourism operators during the normally busy summer months, while retailers will also be hoping that spending momentum continues into Christmas. Other businesses are also likely to reassess their staffing requirements heading in the new year if there is any softness in demand conditions."
He says New Zealand has "weathered the immediate storm as well as could be expected", but risks remain.
"The economy has been regaining momentum, and the question now is if we can sustain this path ahead."