Deborah needs a reliable income for life
Deborah is 70 years old. She's just retired with savings of $350,000 and doesn't think Super alone will be enough to meet her regular income needs. She wants to invest $190,000 with Lifetime and start her income straight away.
Deborah receives a Protected Income Base equal to her investment of $190,000 and at 70 years old, her net Income Rate is quoted at 4.10% per annum. This equates to a net Regular Income of $7,790 each year, paid fortnightly into her bank account at a rate of $299.61 every fortnight, for life.

Deborah's investment over time
At any time, Deborah's investment account balance is equal to her original investment plus net investment returns, less income payments.
In some years, Deborah's investment returns may be more than her Regular Income. When this happens, the difference is credited to her account and her income may rise proportionately.
However, in other years, Deborah's investment returns may be less than her Regular Income payments. When this happens, she draws down some capital to make up the difference. Her Regular Income remains unchanged.
The table indicates how Deborah's account balance* and Regular Income could look over time.
Even if Deborah eventually draws down all her savings, this doesn't mean she'll run out of income. Lifetime's insurance ensures she will always receive $7,790 each year, paid at a rate of $299.61 every fortnight, for life.
*Expected account balance assumes a long run gross return of 5.00% per annum and a PIR tax rate of 17.50%.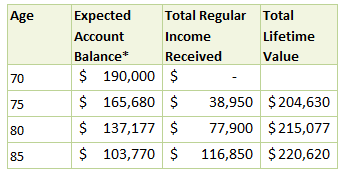 What if Deborah's hip becomes a serious problem when she's 80?
Rather than go on a waiting list for an operation, Deborah decides to withdraw $20,000 from her account and pay for private treatment. She takes out the money and has the operation.
Her Protected Income Base is reduced by $20,000 from $190,000 to $170,000 and her Regular Income is reduced proportionately to $6,970 per annum or $268.07 per fortnight, for life.
Or what if Deborah passes away at age 85?
Having received an annual net income of $7,790 for 15 years ($116,850 in total), Deborah's expected investment account balance of $103,770 will be paid to her estate.