Frequently asked questions
How does Lifetime pay me a regular income for life?
Lifetime does this in two ways.
Firstly, your savings are invested in a balanced fund. All your investment returns are credited to your account. Fees, tax, and your fortnightly income payments are debited from your account. In some years, your net investment returns may be higher than your regular income payments and the difference will be credited to your account. In other years, your investment returns may be lower than your regular income payments. In these years, some of your capital is used to make up the difference. 
Secondly, your regular income is insured for life. Even if you eventually drawdown all your capital, Lifetime's insurance continues paying your fortnightly income for as long as you live. Your account balance (your savings plus net investment returns minus income payments) is available to you at any time and will be paid to your estate should you pass away.
How does Lifetime keep my savings secure?
Lifetime is designed to protect your capital and make it last as long as possible.  
Lifetime is a Reserve Bank licensed insurance company. This is important as the Reserve Bank of New Zealand only licenses two types of financial organisations; insurance companies and banks. As a licensed insurer, Lifetime is subject to strict governance and supervision. In order to offer a lifetime income guarantee, the Reserve Bank requires Lifetime to hold sufficient capital in order to meet its future obligations. Capital must be held separately in a statutory fund, which is regularly monitored by the Reserve Bank.
The Public Trust (a Crown Entity) is the supervisor and custodian of the Lifetime Income Fund. When you invest with Lifetime, your savings are deposited into a Public Trust Lifetime Income Nominees bank account. The Public Trust invests your savings with the investment managers of the balanced fund (Vanguard, ANZ, NZX, and Harbour Asset Management) in the assets stated in the Product Disclosure Statement. The Public Trust supervises the administration of your capital at all times. Lifetime can only withdraw capital from your investment account in the event of; making Lifetime Withdrawal Benefit payments to you, paying the fees and tax on your investment, or if you instruct Lifetime to withdraw all or part of your investment. The dual roles of Lifetime as manager and the Public Trust as supervisor add an extra layer of investor security to the Lifetime Income Fund.
As a fund manager, Lifetime is monitored by the Financial Markets Authority (FMA). Lifetime reports to the FMA every month on its financial performance and management of investors' money.
Can I withdraw my investment?
Yes, Lifetime gives you the freedom to withdraw your savings (in part or in full) at any time without penalty. If you pass away, your remaining capital will go to your estate.
You can choose to withdraw up to 20% of your balance and have your regular payments recalculated on that basis. Withdrawing more than 20% of your balance will trigger a full withdrawal. No withdrawal fees will apply under either scenario.
What happens to my investment if I pass away?
If you pass away, your account balance will be paid to your estate.
Can I invest with my partner?
Yes, you can choose to invest in Lifetime individually or together with your partner.
Investing individually insures your income for the rest of your life. Should you pass away, all remaining capital will go to your estate.
Investing with your partner insures your income for both of your lives. This means that if one of you were to pass away, the full Lifetime Withdrawal Benefit would be transferred to the surviving partner for the rest of their life. Should you both pass away, all remaining capital will go to your estate. If you choose to make a joint investment, your Lifetime Withdrawal Benefit rate is based on the age of the younger partner.
What are the fees?
There are two annual fees for investing with Lifetime.
1) Fund Management Fee - 1.00% per annum of your account balance.
The Fund Management Fee is to invest and manage your capital in the Lifetime Income Fund.
2) Income Guarantee Insurance Premium - 1.35% per annum of your Protected Income Base. If you choose to make a joint investment, the insurance premium is 1.75% per annum of your Protected Income Base.
The Income Guarantee Insurance Premium is to insure your income for the rest of your life, regardless of market performance or how long you live. If your original capital is depleted, the insurance continues to pay your regular income payments for life.
Are Lifetime's income payments protected from inflation?
Lifetime can offer an inflation-protected income for life product whereby your guaranteed income increases each year in line with New Zealand Superannuation. The income rate on this product is 70% of our published and non-indexed income rates. For example, a 65-year-old would receive 5.00% per annum after fees and tax for a non-indexed product but initially only 3.50% per annum after fees and tax for an indexed product.
You therefore receive less income today but get increasingly more income in the future. However, in the current low inflation environment, we expect the average investor to be better off by choosing a non-inflation protected product. 
Inflation has been steady and reasonably low for quite some time. According to the Reserve Bank of New Zealand, the compound average annual rate of inflation over the last 30 years has been 2.40% per annum. You can see this data here.
So what should you do? In this example below, we illustrate the difference between choosing an indexed or non-indexed product: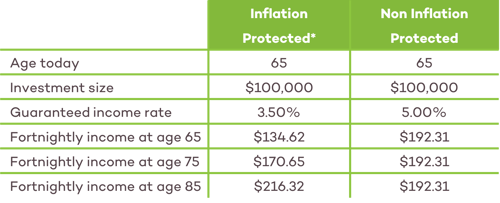 *Inflation Protected product increases each year by an assumed long run CPI inflation rate of 2.40% per annum.
Your income rises each year with the indexed product but it's expected to take 15 years before it overtakes the non-indexed product.
Lifetime is designed to help you top up NZ Super to help you meet fortnightly living costs. NZ Super is indexed at 66% of the average wage and will likely make up the a significant proportion of your retirement income. This means a large amount of your income is indexed (via NZ Super) anyway so the need to find inflation protection elsewhere is lessened.
Your investment with Lifetime is always liquid, which simply means your initial investment plus net investment returns minus income payments received can be redeemed at any time.  It also means that if inflation were to rise in the future, you could always add to your investment then to top up your regular payments.
What is the minimum investment size?
You can invest anywhere from a minimum of $25,000 to a maximum of $1,000,000.
We can accept applications above or below these amounts at our discretion.
What is the minimum and maximum age you can invest and start getting income payments?
You can start your income payment from age 60 onwards. The maximum investment age is 90.
Can I invest but defer my income?
Yes, if you'd like to protect your future income you can invest and defer your income until later.
This enables you to grow your future income with investment returns over your deferral period. Because your income is insured, it will rise with positive returns but it cannot fall, even if there is a market downturn. 
Read more about this here.
How is an investment with Lifetime taxed?
Lifetime pays tax on your behalf at your normal PIE tax rate. For most of our investors this is 17.50% per annum.
You can work out your personal PIE tax rate here.
Tax is only paid on your investment returns from the balanced fund. You do not pay tax on any capital drawdown.
What will my investment returns be?
Your savings are invested into an internationally diversified balanced fund made up of shares, bonds, and cash. The fund has a gross average expected return of 6.50% per annum over the long term.
Can I top up my fund to get more income?
Yes, you can add to or withdraw money from your fund at any time, for any reason.
We treat additional contributions or 'top ups' as separate investments. This insures the income generated from each individual contribution. Your income rate for an additional contribution will also be based on your age when your start your income from that additional contribution.
For example, if you invested $100,000 at age 65 and started income, your net income rate would be 5.0% p.a. If you made an additional contribution of $50,000 at age 67 and started income, your net income rate on the additional investment would be 5.20% p.a.
How much of my retirement savings should I invest with Lifetime?
Lifetime is designed to help you bridge the income gap between your fortnightly expenses and the money you get from Super, making sure your regular income needs are covered for life.
As a result, the amount you could invest with Lifetime depends on your personal living costs in retirement. This is subjective.
However, international research1 suggests the amount of money you could invest in a guaranteed income product like Lifetime is between 30% to 40% of your savings; but this will depend on your personal circumstances.  For example, the suggested amount is closer to 40% if you're 65 or younger and closer to 30% if you're 75 or older. 
Your surplus savings on top of this amount could be invested in other assets like shares, bonds, or bank deposits.  For example, shares carry more risk but there is potential for higher returns that can help you grow your savings and potentially outpace inflation over your retirement. Bonds can generally give you a steady income and help you protect your savings from market volatility.  Bank deposits are useful for money you need in the short-term, as well as for lump sum expenditures like holidays, new cars etc.
1. 'Allocation to Deferred Variable Annuities', Morningstar.com (last accessed 31 March 2018).
What's a Protected Income Base?
The initial amount of money you invest is called your Protected Income Base. This is the base from which your insured income is calculated from. For example, if you were 65 and invested $100,000, your protected income base would be $100,000. Your net income rate at age 65 would be 5% per annum of your protected income base, giving you a net insured income of $5,000 every year, for life.
Each year, we reset your Protected Income Base to the higher of your original investment or its current market value. This locks in market gains on an annual basis and protects your income from negative returns. This means that while your account balance will fluctuate with the markets, your Protected Income Base will not. Because your income is calculated from your Protected Income Base, this means that your insured income can only rise or remain the same, it cannot fall.
Get a free information pack
If you would like to find out more about Lifetime, we can send you a free information pack.