Insurer Solvency Information
Insurer Solvency Information
Lifetime Income Limited, as a licensed life insurance company, is required to meet minimum solvency requirements in accordance with the Reserve Bank of New Zealand's solvency standards. 
Lifetime Income Limited is required to meet minimum solvency requirements on a continuous basis with 6-monthly reporting and disclosure requirements.
In April 2020, the Company identified a material issue in how the solvency position had been calculated and sought clarification from the RBNZ.  The RBNZ has provided directions on the capital methodology to apply in August 2020.  The corrected method requires the Company to hold more capital.
The RBNZ also issued amended licence conditions that required the Company to further increase its regulatory capital.  Effective from 31 December 2020, the variable annuity statutory funds, statutory funds 1, 3 and 4, are required to maintain a minimum solvency margin of respectively $4,500,000, $250,000 and $250,000, with this increased to $9,000,000, $500,000 and $500,000 on 30 June 2021.
The Company's Parent entity has not been able to raise enough capital to meet the higher RBNZ regulatory capital reserve requirements and has therefore made the decision to close its insurance products.  The Company closed to new business in December 2020.  As the Company is now in run-off, the RBNZ has issued further amended licence conditions requiring the Company to further increase its regulatory capital.  Effective 30 June 2021, statutory fund 2 is required to maintain a minimum solvency margin of $10,000,000.
The Company is required to hold $5,000,000 minimum solvency capital at the company level.  The RBNZ minimum solvency margin requirements are specific to the respective individual statutory funds.
The actual solvency capital below is inclusive of a provision for business close down and compensation costs.  As a result of the cancellation of the insurance contracts for statutory funds 1, 3 and 4 at 30 September 2021, there have been material changes to the policy liabilities and the minimum solvency capital calculation for these statutory funds only allows for asset risks.  In respect of statutory fund 2 there is an allowance for insurance risk and asset risk in the minimum solvency capital calculations.
Business close down and compensation costs represents the estimated costs that Lifetime Income Limited expects to incur because of the cessation and closure of operations, including a component for compensation payments to variable annuity policyholders.  The methodology and assumptions to apply in calculating the compensation payments have been agreed and the Company is currently awaiting regulatory approval to make these payments to eligible customers.  Business closed down and compensation costs are now estimated to be $3,670,000.  The reduction in the provision recognises close down costs have been incurred during the period and the compensation payments calculated based on the agreed methodology and assumptions.
Further details about the proposed closure of Lifetime Income Limited can be found on pages 9 and 10 of its financial statements for the year ended 31 March 2021, which are filed with the Companies Office (https://companies-register.companiesoffice.govt.nz/).
Lifetime Income's total solvency position as at 30 September 2021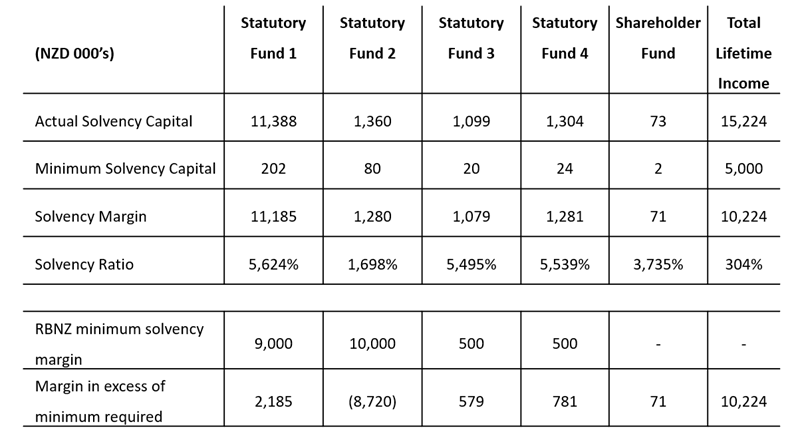 As required by the Insurance (Prudential Supervision) Act 2010, Lifetime has established the following statutory funds in respect of its life insurance business:
Statutory Fund 1 – Lifetime Income Fund;
Statutory Fund 2 – Foundation Annuity and Unit Linked Business; and
Statutory Fund 3 – Simplicity Variable Annuity Product.
Statutory Fund 4 - Britannia Variable Annuity Product.